At present, SSG owns 3 sets of hot -rolled seamless steel pipe production line and 2 sets of hot-expanded seamless steel pipe production line with annual production capacity of 200,000 tons, the size range is from 73mm to 630mm. Its physical and chemical labs cab conduct various physical and chemical tests and experiments for steel pipes, and are equipped with eddy current flaw detectors,leakage fault detection and ultrasonic crack detectors etc. For high, medium and low pressure seamless steel pipes and petroleum casing pipes with a full range of inspection measures, capable to meet various standard test and inspection requirements for steel pipes.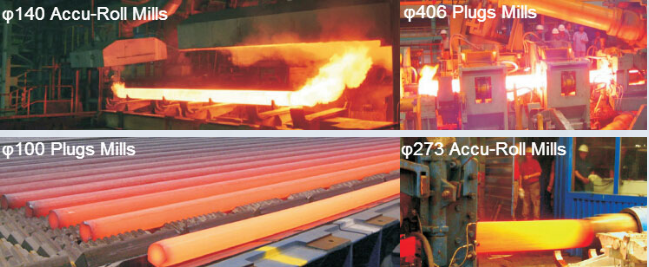 Hot Rolling
During the production of special hot rolled steel profiles by hot rolling
the input billet or slab is formed into lengths up to 70m using two
using two oppositely rotating cylindrical rolls. The hot rolled steel
shapes of this forming technique are used in a multitude of industrial
applications.Hot rolled special profiles offer innovative solutions
whether it be for automotive, materials handling, railroad or thicker
flange and web thickness structural steel shapes use. Finished hot
rolled steel shapes are roller straightened and sheared into production
lengths or sawn into fixed lengths according to customer wishes.
Cold Drawing
The process of cold drawing is a procedure by which steel profiles
are formed in order to achieve complex cross sections of excellent
precision in these cold drawn steel shapes.After careful pre-treatment
and de-scaling, the special profile bars are drawn through a forming die.
This operation can be repeated up to three or four times. Cold drawing
of hot rolled and hot extruded special pre-shape steel profiles tightens
the cross-sectional tolerances, thus leading to significant improvement
in dimensional accuracy and surface quality. Cold drawn steel special
profiles offer the same precision achieved by machining.
Longitudinal Seam Welded
SSG newest JCOE production line officially launched its production October 16, 2009. The company spent less than one year and a half commencing from the ground Breaking on April 19, 2008 to the load commissioning on August 31, 2009, which bring a new revolution of JCOE steel pipe in the world. The LSAW steel pipe production line provides advanced equipment and technology with the annual designed capacity of up to 200,000 tons, The manufacturing execution system control system is adopted to manage the production and dispatching. And the supervisory control and data acqusition system is adopted to collect data and monitor the process to realize the intergrated and real-time production management.
Electric Resistance Welding
High-frequency longitudinally welded pipe production line is mainly used for the production of welded steel pipe of φ8 ~ φ610 mm and wall thickness of 0.5~ 20mm as well as the production of square, rectangular, and other custom seamless pipe profile, Carbon steel pipe, ERW steel Tube. The line can manufacture welded pipes with good quality machining and high precision assembling at high speed.
Spiral Submerged Arc Wwelded
SSAW pipe is made of hot rolled coiled steel by automatic submerged arc weld under normal atmospheric temperature. There are 12 sets of modernized production line of SSAW pipe. The annual yield of SSAW pipe with outside diameter 219mm-3620mm, wall thickness 5-25.4mm and steel grade B-X80 is 1,000,000 tons. its two steel pipe production lines, one for spiral submerged arc welded (SAW) steel pipe and one for longitudinal submerged arc welded (SAW) steel pipe, are respectively comprised of two sets of main machines and 1 set of sizing equipment. The annual output comes to 120,000 ton for spiral SAW pipe and 200,000 ton for longitudinal SAW pipe.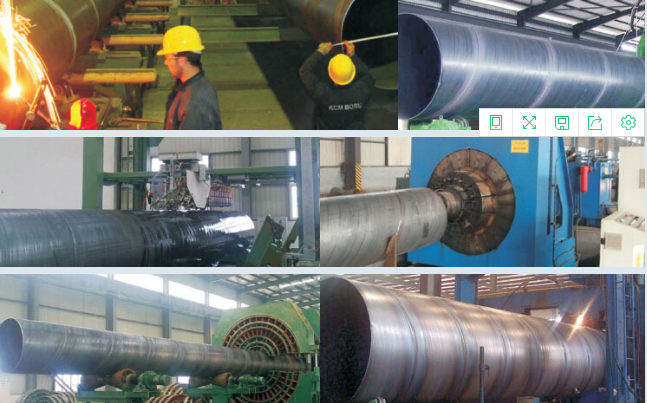 PE coating extrusion system of big bore steel pipe is one of JINHU mainly equipments.Two types include coating type and wrapping type, wrapping type divided into upper wrapping type and side wrapping type. As per customer's requirement, equipment can be fixed put, drop put or several extruders combine together for use. Coating type steel pipe get through the die tooling and then coating, mainly fit for 600mm below steel pipe coating, have the merits of convenient use, coating well-distributed, surface smooth and bright and low cost. Straight line transportation and wrap coating, different size steel pipe coating with different type of die tooling. Side wrapping type with die tooling beneath steel pipe, PE and adhesive rollers nether, adhesive and PE extruder are set up vertically.